Taking a stroll around Rosie and Innes' Victorian renovation, it became clear that Rosie has a natural eye for interior design. Her architectural choices, use of color and, as I later found out, savvy money-saving ways, have created a beautiful, contemporary home that gives the couple the bright sociable space they wanted.
Profile
The owners Rosie Willingale, a director of a property company, and Innes Willingale, a wealth manager, live here with their Cockapoo, Basil
The property A three-bedroom Victorian house built in the 1890s, in Middlesex, England.
Project cost Approx £200,000/roughly $241,996.00
Previously living in a flat just five minutes down the road, Rosie and Innes were desperate for more space and a dog — so a garden was essential, and this house ticked all the boxes. "The property hadn't been touched since the 1970s and it had a tiny little kitchen," says Rosie. "We initially applied for planning permission for a wraparound extension, which would be squared off at the back, making the space significantly bigger."
Before
After
Unfortunately, planning was initially refused as the house is in a Conservation Area, and the shape of the rear had to remain the same as the original building. However, Rosie used this to her advantage, as the L-shape created by the addition that was allowed left space for an outdoor kitchen.
They also wanted to extend up into the loft, so once planning permission was granted for both, their project manager took the lead on the two areas at once. "We were lucky enough to still be living in our flat while the work was being done," says Rosie. "But we enjoyed popping by, probably more regularly than necessary, to see how the work was coming along."
"The old layout had two reception rooms at the front of the house, which the couple didn't really need, so they knocked through one of them, allowing them to create a larger kitchen area and one large living room."
"Once the building work was done, we moved in the day before New Year's Eve. All we had was a dining table, a mattress in the bedroom, and the garden was a mud field. But we invited a couple of friends over to celebrate anyway!"
With a blank canvas to play with, Rosie was excited to decorate. When it came to choosing colors and scrolling through Pinterest, her mum was a huge source of inspiration. "I definitely get my passion for interiors from her," she says. "Our previous flat was very pale, so we wanted to experiment with colour. My mum decorated her living room and bedroom with dark colours, and it worked to create a cosy and cocooning space — that's what we wanted, too." The dark blue living room walls and deep green of the bedroom contrast strongly with the light walls of the rest of their home "They're the rooms we go to in the evenings after work —it's nice to have somewhere to hunker down and escape," Rosie adds.
When it came to fitting out the kitchen, they thought outside the box to get quality pieces for less. "We called loads of companies asking if they had ex-display models that we could buy. It was a lengthy process, but it meant that we got brand new Miele ovens, a Bora hob, and a BeefEater outdoor fridge for basically half price — we're so pleased with them!"
While the open-plan kitchen, dining, and living area is a thing of beauty, with ample glazing allowing the space to be flooded with natural light, it's the outdoor kitchen that Rosie is most proud of. She and Innes had a clear vision of exactly how they wanted their garden to be, so when quotes came in at around £20,000, Innes decided that he would take on a lot of the work himself.
Sharing the load with a laborer, they completed the work within three weeks, for a fraction of the cost. "We love the outdoor kitchen — it's like the unique selling point of the house, and it has so much wow factor when you look out and see it," says Rosie. "It's a great social space for all seasons. In summer we use the Green Egg barbecue at least three times a week as you can cook anything on it! But we also use the space in winter; with the festoon lights and lanterns, it's really cozy and just beckons you to sit outside."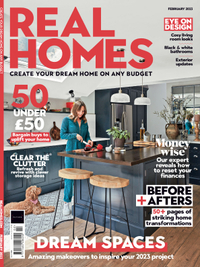 (opens in new tab)
Subscribe to Real Homes magazine (opens in new tab) Want even more great ideas for your home from the expert team at Real Homes magazine? Subscribe to Real Homes magazine and get great content delivered straight to your door. From inspiring completed projects to the latest decorating trends and expert advice, you'll find everything you need to create your dream home inside each issue.