Buying a home with a 37-year-old heating system that was only able to reach a maximum temperature of 53°F degrees in the winter might seem a bad idea. But when Katie and Stuart saw this two-bedroom period property, they were drawn to its character and potential for renovation to become a stunning family home.
Profile
The owners: Katie and Stuart Thorner of Summer House interiors (opens in new tab) live here with their daughters, Annie and Pippa, and cats Walter and Lily
The property: Five-bedroom house in Telford, Shropshire, UK
Project cost: About $265,000
They'd just needed to rip out a few gas fireplaces, add a double-story extension, and figure out the garden all while expecting their second child and organizing a wedding. The 1930s property had high ceilings and beautiful period features worth restoring and having lived in a new-build home for the last three years, the couple craved the charm of a traditional house.
Stuart was experienced in design and Katie in finance, and the couple combined their skills to make savings while creating comfortable and practical spaces. "We wanted to be in keeping with the house, and it still had a lot of period features we wanted to highlight, such as the fireplaces and high ceilings," says Katie. Where they could, the couple tried to upcycle as much furniture as possible. Their new office space features a preloved desk that Stuart drove to Wales to pick up.
Having welcoming spaces where they could spend quality time together as a family and entertain friends was important. "We figured a bigger kitchen-diner would allow one of us to prepare a meal while the children play in the same space. That's why we chose to create an extension to afford us the room we needed to be able to do this," says Stuart.
Work on the extension started in the summer of 2019. "It took 12 weeks to build and be watertight," says Stuart. Designing this new addition to complement the original property was crucial. "We chose to use solid wood kitchen doors and solid brass fittings from Perrin & Rowe, as they have a timeless look. We wanted to achieve a classy, sociable open-plan space — this was relatively easy to create as the extension was a large area and blank canvas."
Another money-saving route the couple used was to engage friends to help them transform spaces, including the garden. "We also did all of the outside with Brooklyn Outdoor Living," says Stuart. "The team helped with the front drive — we dug up all the concrete and put sleepers and gravel on the drive."
At the rear, the garden was completely overgrown. Here, the couple wanted to create an area where the children could play, but also a space to entertain and enjoy warm evenings outside with guests."'It was important to have different spaces a bit further away from the house so that we could entertain friends and not disturb the children if they were sleeping, so down the bottom we have a lounge area where we have built a pergola."
The primary bedroom suite is a luxurious place where Stuart and Katie can escape. "We wanted to create something striking so went for the freestanding bath in copper and Crittall shower screen," says Stuart. "You can see the bathroom from the main bedroom and we wanted to look onto the copper bath from the bedroom through the archway." A "his and hers" shower has been achieved by sacrificing some space in the bedroom area.
Renovating a period property often comes with unforeseen costs and hidden challenges, but Katie and Stuart have successfully navigated all these during a global pandemic to curate considered rooms that complement the age of their home.
"We were very lucky in that we didn't face any problems with the planning office," says Katie. "Our main challenge was actually juggling childcare."
As Stuart carried out a lot of the work himself, it meant that they spent very little time together as a family. In the end, the sacrifices have paid off, as they have a home that truly reflects them. "Having an interior scheme that mirrored our personalities was important to us and we think we've achieved this," says Stuart.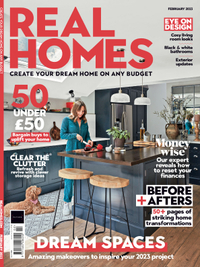 (opens in new tab)
Subscribe to Real Homes magazine (opens in new tab)
Want even more great ideas for your home from the expert team at Real Homes magazine? Subscribe to Real Homes magazine and get great content delivered straight to your door. From inspiring completed projects to the latest decorating trends and expert advice, you'll find everything you need to create your dream home inside each issue.