When Emma and Martin bought their forever home — a converted farmhouse in Derbyshire, England — the main bedroom was one of a long list of rooms they needed to tackle to get the property up to scratch. "The room was really tired and run down," Emma says. "It had magnolia walls, peeling wallpaper, a threadbare, faded salmon pink carpet — oh, and woodlice emerging from the walls.
"There was an en suite, too, big enough for a bath, shower, and toilet. One day Martin took a shower in there and water started dripping into the living room. I poked the hole and released a waterfall!"
Profile
The owners Emma Coulthurst, (@theoldfarmhouseproject), a TV producer and owner of a holiday let company, and her husband, Martin, a construction manager, live here with their children, Edie and Arlo, dog Cookie and cat Jindy
The property A four-bed 19th-century farmhouse in Glossop, Derbyshire, England.
Project cost £32,000/$38,600
Emma proved she has a real eye for design with her transformation of the farmhouse's main bathroom, which was a worthy winner in the Real Homes awards last year. And she's used all those skills to create a master suite to match. It took a grueling two and a half years, but the couple's efforts have truly paid off — as Emma explains…
Before
"Designing this room, we thought about how we wanted to live — storage was important, and we wanted a beautiful, functioning en suite. We smashed out the old en suite and took the ceiling up to the beams, opening the room up into one huge, bright space. We took space from the big spare room next door, and what'd been a long corridor leading into the bedroom, to create an en suite and dressing room. It was expensive, but we're glad we did it for our forever home."
After
"The views from the window are beautiful, so we wanted to position the furniture to take them in. We flipped the bed so that it sits in the center of the room, with three large windows around it and a roll-top bath at the end of it. We use the space as so much more than a bedroom now. We do bath time in here so that the kids can be in the tub while we chill with a glass of wine. Sitting in bed in the morning and looking at the views is just dreamy. We wanted a boutique hotel feel, and it's hard to find holiday places to match it now!"
Before
After
"I have a thing for blue and pink. The floor tiles around the bath were a bargain from Tile Mountain (opens in new tab), and the blue in those really cemented the scheme. The old en suite was daffodil yellow, so I wanted the new one to be crisp and clean. Originally, I painted the main room white, but it was too bright. I toned it down with dark blue paint on the chimney breast, and soft pink furnishings."
"We were so focused on the building work that the décor was a bit of an afterthought. We made it what it is now over time — putting the wallpaper up, painting the chimney breast, changing the bedside tables and the chest of drawers. It took about two-and-a-half-years in all — we were constantly working to make it feel right. Plants were a massive game changer, like the beast of a monstera in the corner of the bedroom. Greenery really completes a space."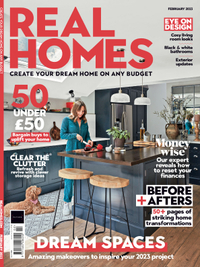 (opens in new tab)
Subscribe to Real Homes magazine (opens in new tab) Want even more great ideas for your home from the expert team at Real Homes magazine? Subscribe to Real Homes magazine and get great content delivered straight to your door. From inspiring completed projects to the latest decorating trends and expert advice, you'll find everything you need to create your dream home inside each issue.